After reviewing the preponderance of evidence before us, American Citizens are being convicted of crimes and evicted from their homes without any shred of evidence that they have committed any legal infraction.
01/14/09 Inside Insight Show RNC Arrests-Exposing Dual Interests
Host Bob Zick and Nancy Lazaryan show how ignorant or far behind our leaders are on what's really going on. In this show they expose the conflicts of interest between lawyers and politicians. Sen Latz, "I take a few oaths. I take an oath to the courts as part of my law license and am an officer of the court. I also take an oath to the constitution as part of my elected office and I have an obligation to my clients." Lawyers are officers of the court, they take an oath to the court and so a politician that is also a lawyer serves in more than one branch of our government and their oaths conflict with each other and opens the door to special interest legislation for our judicial branch to where "We the People" aren't being represented and nobody is being held accountable.
Nancy also gives Heffelfinger, Chair of the RNC report, something to think about during the press conference for the RNC report, http://stpaul.gov/index.asp?NID=2901.
Nancy working around road blocks at the capitol with Mee Moa's assistant trying to set up a meeting.
Nancy now getting police escorts when she arrives at the capitol with camera.
Enjoy the show, very educational.

11/30/08 Inside Insight Show RNC Convention
Reporter getting arrested at RNC convention following up with county prosecutor on the charges of unlawful assembly.

6/17/08 Obama Selling Out Fathers On Fathers Day
Apparently Obama is unaware that most divorces are brought on by women because he put all the blame for the family breakdown squarely on men. Nice way to celebrate fatherhood on Fathers Day by pandering to the women voters and playing on the misunderstood notion of the deadbeat parent. One of his quotes were fathers "have abandoned their responsibilities, acting like boys instead of men." Let me remind everyone that there has never been an academic study ever produced to show that parents have been systematically abandoning their children. Given that, one has to wonder where is he getting his information from?
6/18/08 Ron Paul's Campaign For President Has Ended But The Revolution Has Begun
Ron Paul discussing the next steps to restoring our rights as citizens. While we may not agree on all of his ideas he is still fighting for the rights of the citizens to have a balanced government and has been black balled by the major media outlets. Check out CampaignForLiberty.org
6/12/08 Guest on Speechless Show Talking About The Right of First Refusal?
Speechless show hosted by Tim Kinley talking about a fathers experience at the YMCA in Andover when he tried to check his daughter out early from daycare with a court order specifying he had the right.

6/11/08 Ask the YMCA in Andover, why they would place a business interest ahead of one of our inalienable rights?
First day of summer vacation and the kids are in daycare, but what if you are home and available, shouldn't a court order specifying the right of first refusal be enough to check your kids out of the YMCA if you have joint legal custody? Ask the YMCA why a business decision to enroll your child into their YMCA programs against your will can become a financial incentive affecting one of our inalienable rights as citizens and the police are afraid to do anything about it.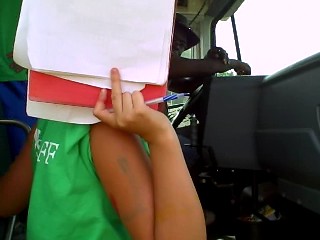 5/26/08 False OFP Case Of Incident
These videos are in reference to the 5/2/08 Video of an OFP Hearing by False Accuser for that story Click here
Video 1 Damage to Door Part 1
Video 2 Damage to Door Part 2
5/24/08 Pioneer Press Ad Requesting Grand Jury Investigation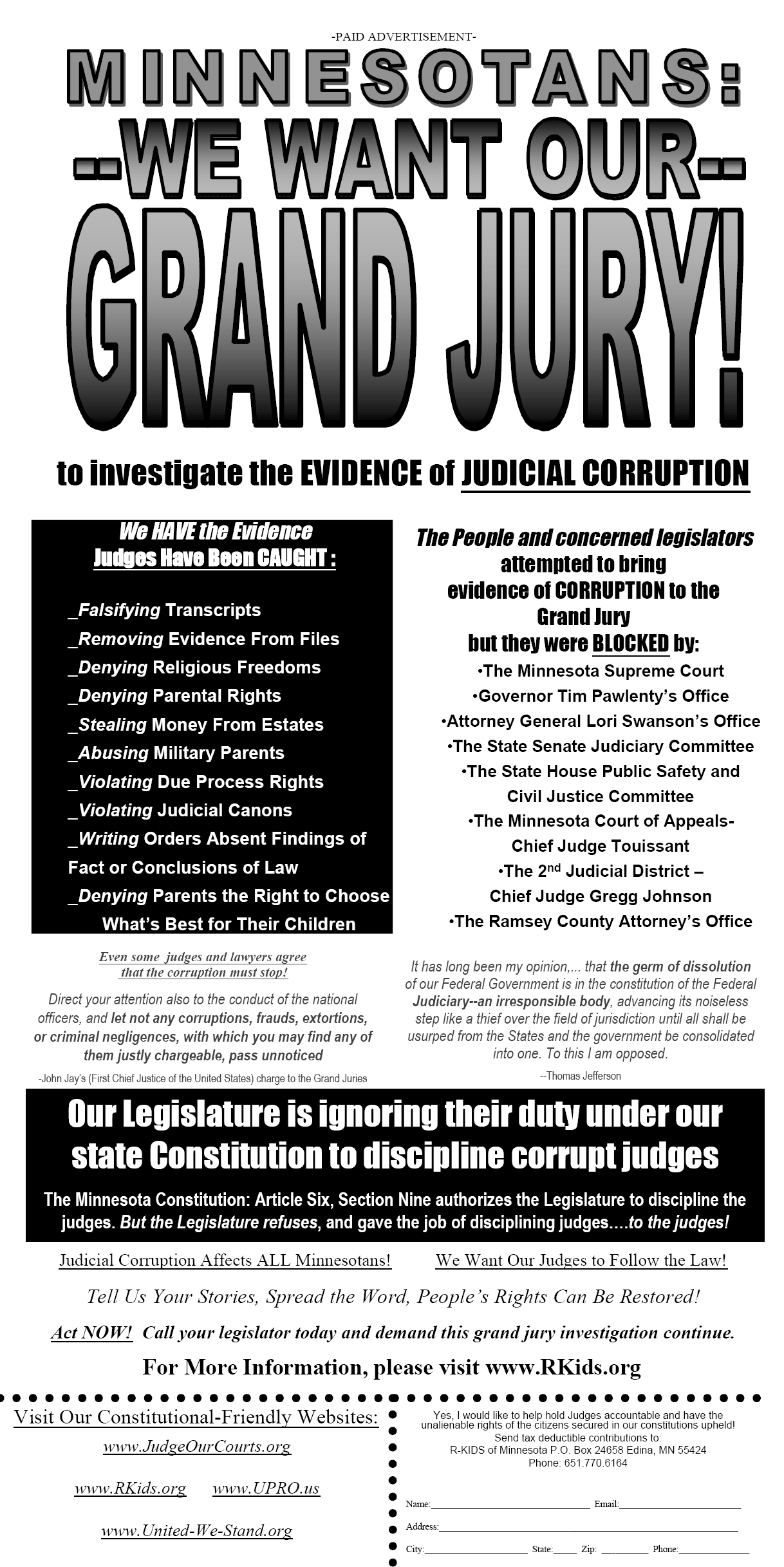 There are certain rights that the citizens just can't negotiate away on behalf of others, and those rights are called our inalienable rights. In other words, the voters in our Democracy just can't vote on, negotiate or take away our inalienable rights without allowing for the exception of individualism and a fair trial with the appropriate burden of proof. To protect and respect our naturally occurring rights, anything less than clear and convincing evidence beyond a reasonable doubt is not only a crime against humanity but is also an insult and an attack on our individual freedoms and constitutions.
DRaFT--> Resolution FOr POLITICAL PArty'S TO ADOPt
This resolution is needed for the future sovereignty for the citizens of the State of Minnesota to be free from false prosecutions of crimes not sufficiently proven by our justice system and the following resolution is therefore being presented at this convention to reaffirm our party's continued commitment to the citizen's inalienable rights endowed to us by our Creator under natural law, common law and both our Minnesota State and US Constitutions.
RECOGNIZING, there is no bond more precious than the natural bond between a parent and a child and any state statute or policing action that infringes upon a citizens natural right must adhere to the proper protections of the law with the utmost scrutiny and caution.
FURTHER RECOGNIZING that any attack on our citizen's inalienable rights without due process of law by a state agency will result in our citizens being falsely accused of group crimes they did not commit, produce invalid confessions and will allow for false propaganda to deceive our citizens. By putting the state interests or now the mobs interest ahead of the citizen's inalienable rights given to us by our Creator, the mob will have unbridled power to essentially rule over all aspects of our citizen's lives thus resulting in numerous crimes against humanity and justice. With the awesome power of our own police, military and judicial forces at a mobs disposal, together they will be used against the citizens to instill unspeakable acts of abuse, torture and terror which, sometimes even results in the needless loss of life.
This resolution will help reaffirm and restore the rightful authority of our inalienable rights back to our citizens and must be adopted as part of our party's platform to help ensure compliance of our party's intended purpose to represent the free and sovereign citizens of the State of Minnesota as outlined by our Constitutions.
NOW, THEREFORE, BE IT RESOLVED that this political party of Minnesota will from this day forward, forever recognize that the right of the people to parent their children is an inalienable right under natural law, common law, and the Minnesota State Constitution.
AND BE IT FURTHER RESOLVED that the standard of proof for the state to limit or remove any inalienable right must be raised from a preponderance of evidence standard to the appropriate legal burden necessary that is used to restrict any other inalienable right by providing clear and convincing evidence beyond a reasonable doubt.
5/19/08 The Union Say's, No Negotiating on Beyond a Reasonable Doubt!
Folks, the plain and simple truth of it all this is the preponderance of evidence invasion into our court rooms is something we as American Citizens just can't budge on when it comes to our inalienable rights. The power of the mob to rule our lives is what a preponderance of evidence allows in our court rooms and that means justice across our states becomes skewed by which state or mob is more corrupt than the other. We as citizens should all be worried when our government can re-write our contracts that we entered into legally. We should be worried that the government and it's allies can make a claim of truth without having to provide any proof of the evidence and if you are the defendant it is your job to prove otherwise where a series of fact shopping occurs resulting in the states claims superseding the defendants actual facts. Forced confessions that result in subsequent evidence that supports the version of the mobs story to suit their interest by ignoring the individual rights to be free from such observations is a crime against freedom.
The power of our government to be able to group any individual into any category they wish and because they say you are part of that group you are guilty. Whether that group is being rich and so they should pay more taxes or if they are poor and they should get a job, everyone is an individual and that is what our country was based on, individual freedoms that can't be taken away from you without a jury of your peers based on evidence that is clear and convincing beyond a reasonable doubt. Everyone should be judged based on the crimes they commit and not judged based on the crimes that have been alleged.
If we budge on this fundamental right now, who's to say what other problems we will be faced with in the future. We must stand firm and request that any inalienable right must adhere to the our highest law of the land and the people are innocent until proven guilty beyond a reasonable doubt. In other words, people should no longer be able to just state their grievances in court, they have to prove it.
The standard now is where if what the mob or the states claim is true and constitutes a crime, you must defend yourself as if your were guilty of the crime being charged but as we know when the state is saying it or making the claim, there is no defense an innocent citizen can make to prove that what the states claim isn't true about the individual because they have already found you the citizen guilty of statistically being part of that group, hence, the loss of our individual freedoms and rights. You lose one, you lose them all and sooner or later you will be a victim one way or another, directly or indirectly by this type of injustice. It gets even worse, right now this problem is creeping into our criminal system as well, so don't think this is just a concern for a few of us, parents are just the first casualties of this war on individual rights. If you ask me, everyone should all be scared with power our government and judges have over us especially when a preponderance of evidence is so freely allowed to rule our court systems. A preponderance of evidence standard for inalienable rights constitutes due process violations everywhere and we need to restore our rights now for our future generations by not budging on the fact that any inalienable right can not be limited or taken from a citizen without due process of law that encompasses the proper protections in place that allow for clear and convincing evidence beyond a reasonable doubt.
With that said, while raising the standard of evidence allowed would be a step in the right direction and would reduce the number casualties for the families and children yet to face these injustices, we just can't give on this particular ground and it pains me to know that the families and children are going to suffer the most while our legislators continue to think they can run our state like a business that has a monopoly over it's citizens rights by putting their interests ahead of the citizens.
5/18/08 Seminar On Restoring Our Rights
The first seminar will be June 14th and it will provide you with the necessary case law and background to help everyone exercise their inalienable natural rights in our courts systems, so, be sure to stay tuned here for more seminar updates if you are interested. For more information or to RSVP for the seminar send an email to contact@upro.us all proceeds go back to the community fighting in federal court and so forth so don't think it's completely over yet. In other words, we still have to hold them accountable to clean up their mess. For the latest version of the resolution to be proposed from the revisers office of MN click here.
"We the sovereign people of the state of Minnesota do hereby resolve that the right to parent our children is an inalienable right under natural law, common law & the Minnesota state constitution therefore, the standard of proof for the state to limit or remove a child from a parent is a legal burden and must at least or at a minimum provide clear and convincing evidence to show probable cause."
5/13/08 Contribute Part of Your Tax Refunds To A Good Cause
Come on, there are plenty of non-profit orgs you can donate or contribute to. I suggest everyone donate at least 10% of their refunds to at least one of the orgs in our community. It all costs money which in case you haven't noticed none of us are on any governmentally funded bandwagons. So, instead of our gov having this money for more out of control liberal programs and policies heck, why not give it back to some of us starving groups that haven't even been recognized by the American people as being a problem of great social concern yet.
I have news for you folks, this is it, there aren't any other groups fighting for your rights at the capitols which is why groups that fight for your rights are important because the individual politician at the capitol isn't powerful enough to beat the system either. That said, Pioneer Press Ad, National Father Less Day and the DCRally2008, are all coming up and we need your contributions and donations to finish this ridiculous injustice forced upon our citizens. -HD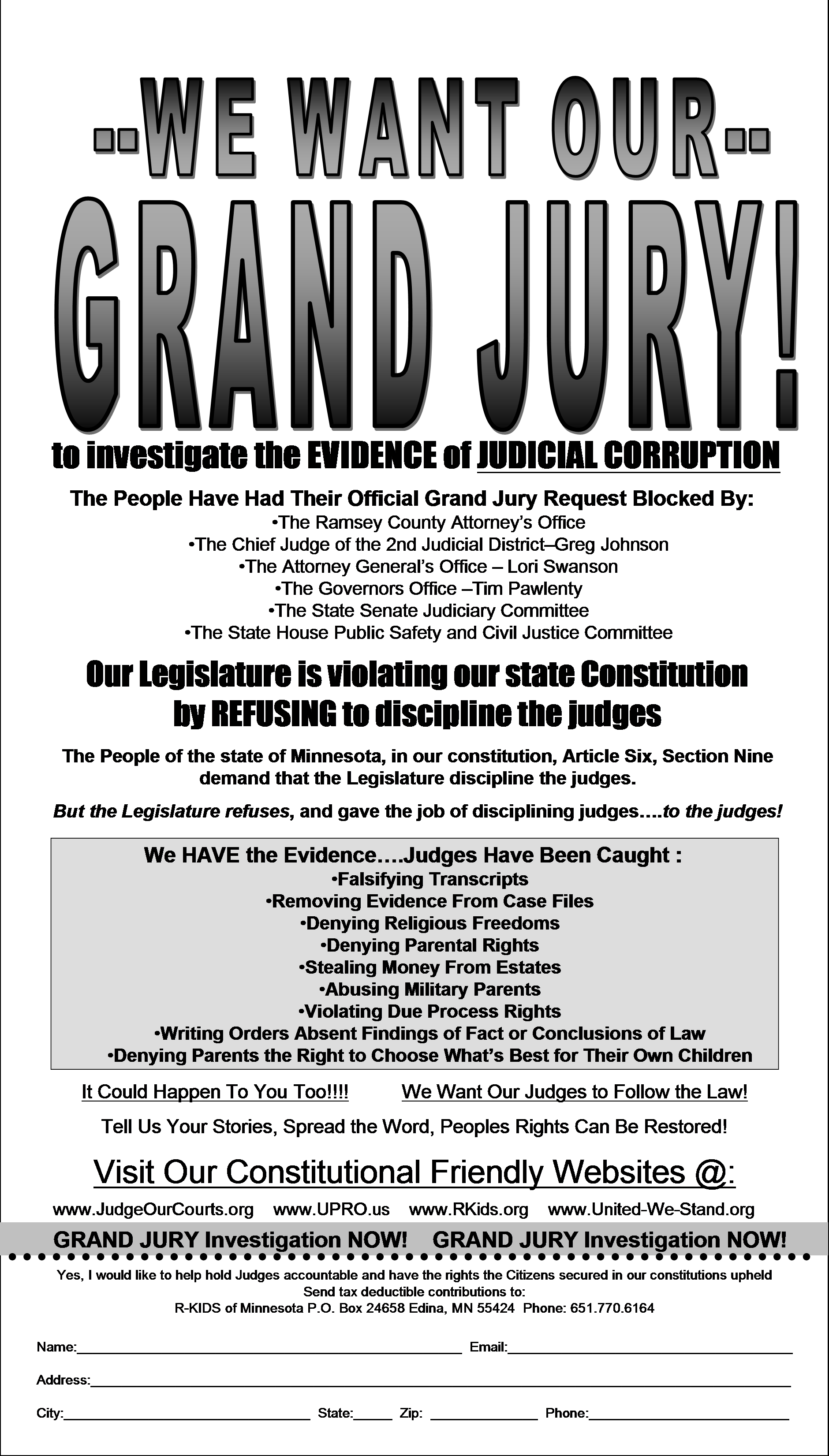 5/12/08 Educating the Public-To the right is a preview of a full-page ad that will be running in the Pioneer Press throughout the Mid-West scheduled to start May 28th, the day before the State Republican convention in Rochester, MN. Click here to help donate for this effort. For a bigger picture click on the image.
The People of the state of Minnesota, in our constitution, Article 6, Section 9 demand that the Legislature discipline the judges.
5/7/08 Putting MN Legislators On Notice To Obey Their Oath of Office
Nancy Lazaryan serving the executive, legislative and judicial branches of our government that they will be prosecuted if they do not uphold the constitution which is part of their oath of office.
Part1 http://video.google.com/videoplay?docid=-6576283240629348809&hl=en
Part2 http://video.google.com/videoplay?docid=-3195141062006089893&hl=en
M.S. Sec. 351.02 VACANCIES.
Every office shall become vacant on the happening of either of the following events, before
the expiration of the term of such office:
(1) the death of the incumbent;
(2) the incumbent's resignation;
(3) the incumbent's removal;
(4) the incumbent's ceasing to be an inhabitant of the state, or, if the office is local, of the
district, county or city for which the incumbent was elected or appointed, or within which the
duties of the office are required to be discharged;
(5) the incumbent's conviction of any infamous crime, or of any offense involving a violation
of the official oath;
M.S. Sec. 351.06 APPOINTMENT; CONTINUANCE OF TERM; IMPEACHMENT.
Unless otherwise provided for, when a vacancy in an elective office is authorized to be filled
by appointment, such appointment shall continue until the next general election occurring after there is sufficient time to give the notice prescribed by law, and until a successor is elected and has qualified. When any state officer, excepting the lieutenant governor, shall be temporarily suspended from the performance of the duties of office by reason of having been impeached, the governor shall appoint some suitable person to exercise the duties of such office during the time of such suspension, and such person, before entering upon the duties, shall comply with the requirements of law relating to the same, and during incumbency shall be governed in the administration thereof by all laws enacted in reference thereto, and receive the compensation provided by law for such office.
EVERY state officer swears an OATH of OFFICE that states he/she will UPHOLD the state and federal constitutions...violate the constitution(s), you are OUT of office.
***********************************************************
5/2/08 Video of an OFP Hearing by a False Accuser
The defendant had a video camera of the alleged domestic violence offense and played it for the judge to see. The mother's request for an OFP was denied after getting caught in numerous lies and deceptions. The video is 1.5 hours long and will take a while to watch but it is definitely worth it just to see someone actually get caught trying to use the system like so many vindictive parents have been doing.
To download video click here: Judge WF Sinclair Ohio County 08h14m01s.asf
Videos of Alleged Incident click here
***********************************************************
5/3/08 The big list: Female teachers with students
Click here for the BIG List of Female Predators Just Over the Last Couple Years
*******************************************
4/22/08 Last 10 Minutes of Darren Mack's Custody Case
This video is being brought up because Darren Mack's appeal for murdering his EX wife was denied and wanted to share this video with my viewers so everyone could see for themselves if Darren was treated unfairly by this Judge.
http://glennsacks.com/blog/?p=1973
*******************************************
3/10/08 Molly Olson Testifying for HF1262
The Need To Change Course In The Family Courts
Joint Physical Custody is in the best interest of our children assuming no abuse or neglect has occurred to a reasonable level of standard before invading our parental rights.
http://www.youtube.com/watch?v=MuO_wxD5dGU
*******************************************
3/7/08 St Paul MN Capitol Press Release
For a better picture or printable version click here: http://upro. us/files/ CapitolPressRelease.pdf
*******************************************
3/6/08 Baskerville-60,000 plain clothed armed agents dedicated to going after parents!
That is seven times the number of agents fighting the global war on drugs. This video does a good job at describing and explaining the problem and offers some interesting solutions.
*******************************************
3/2/08 The Anoka/Duluth: Abuse of Power and Control Wheel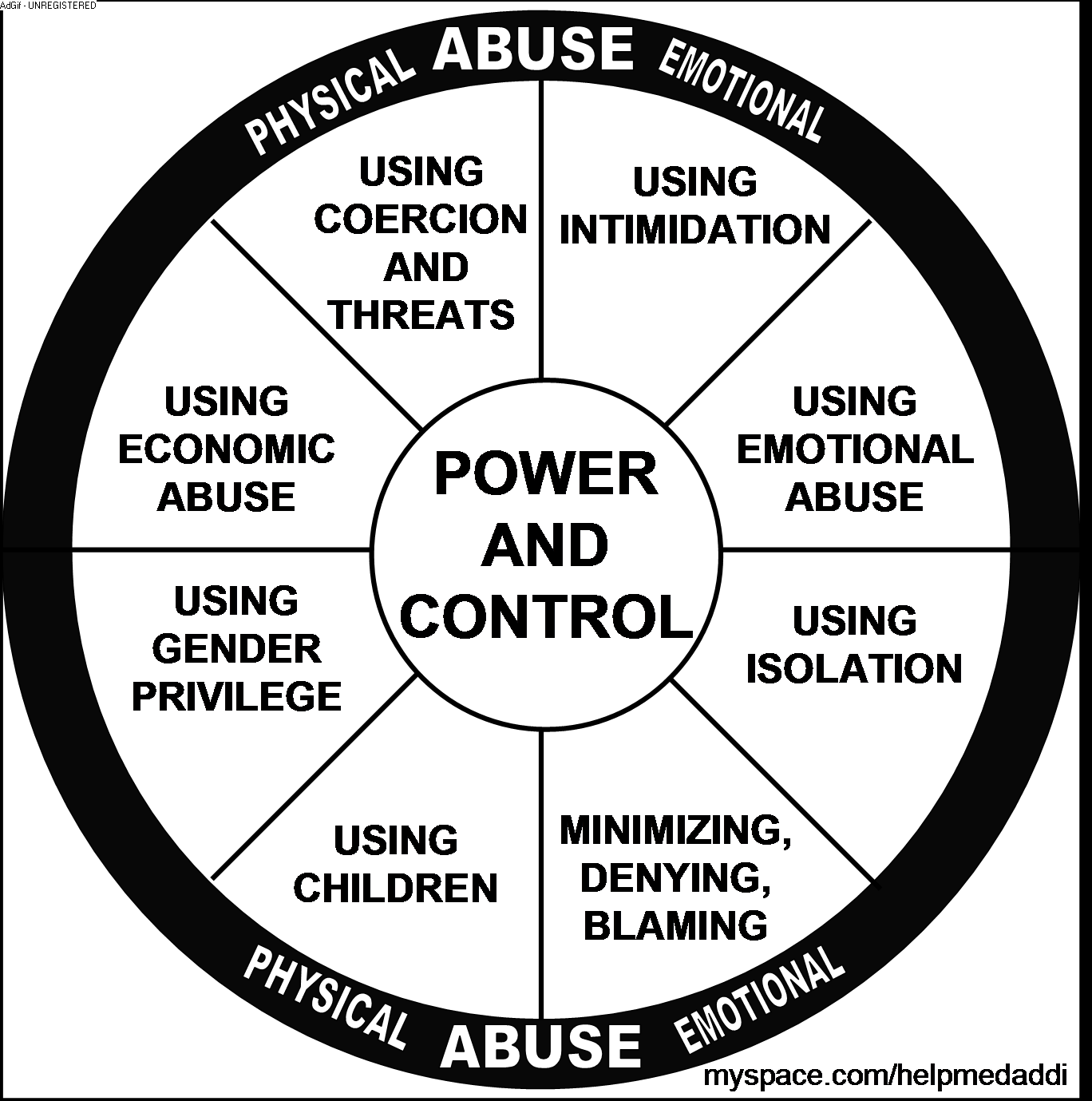 ***********************************************************
3/1/08 From: Stephen Baskerville
Describes my new book, Taken Into Custody: The War Against Fathers, Marriage, and the Family
A must have book for anyone interested in understanding the issues in the family courts.


http://stephenbaskerville.net/articles-categorized.htm
*******************************************
2/27/08 St Paul MN Capitol Press Release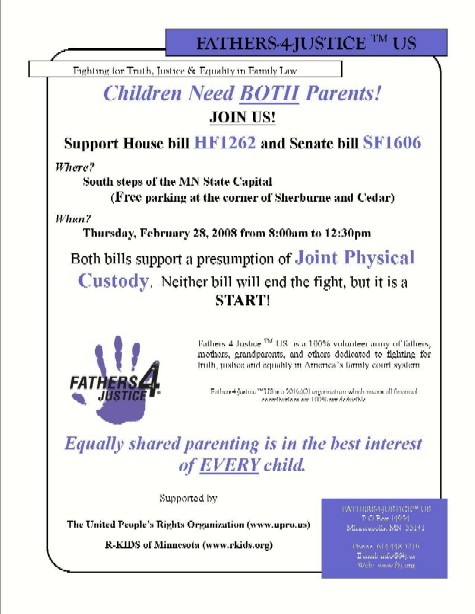 When two fit loving parents exist the above statement is true about every child's best interest. For a better picture or printable version click here: http://upro. us/files/ Capitol-Rally- Update.pdf
****************************************************************************************
2/15/08 Say No To Bills: S803 and H1386
Spread the word and say NO to Federal Bills S803 and H1386

Check out the following links to see who else is supporting these bills.

http://thomas.loc.gov/
http://www.youtube.com/watch?v=y4ibjAIowKI

*******************************************************************************************************
2/12/08 Legislators Acting Above the Law
Basically all MN Legislators have given them selves a raise illegally through per diems and this group is holding them accountable because they are not above the law.
A formal complaint was officially entered into the Ramsey County District Court regarding unlawful compensation through per diem payments for basically all of our legislators. Just about every legislator gets about $12,000 a year extra in unaccounted per diems that they get every time they show up for work. Currently the Senators get $96 a day and the House Representatives get $77 per day. While it's understandable for the legislators that travel to the capitol that live outside of the community or have more than one job deserve a per diem but this is in addition to the mileage and actual expenses that they are already reimbursed for which begs the question is this right? In the business world companies and the IRS don't even allow this much for per diems without taxing it as income. Not only that and there are at least 6 other violations than just this but our states constitution states that no increase of compensation shall take effect during the period for which the house members of the legislative body have been elected and they did this last year without properly ratifying it.
So basically in a nutshell, our legislators have taken it upon themselves to give themselves a raise and tried to hide in the sense of per diems. The senate charged $987,382.50 and the house charged $1,216,382.62 in 2007 which totals $2,203,765 in unaccounted expenses, it's illegal and they need to give us back our money. -HD
http://www.youtube.com/watch?v=VEJvUXz8qM8